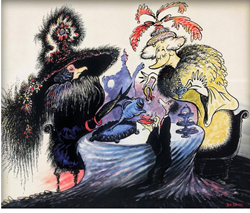 Beverly Hills, CA (PRWEB) April 08, 2015
Few authors are better known than Theodor Seuss Geisel, a.k.a. Dr. Seuss, yet, to this day, his Secret Art and his fantastical Hat Collection are virtually unknown to the general public. Throughout his lifetime, Ted Geisel created paintings and collected hats which he secreted away in a hidden closet at the Dr. Seuss Estate. This is the first time ever that Dr. Seusss hats have ever traveled outside his home.
In honor of the 75th anniversary of Dr. Seusss second book, The 500 Hats of Bartholomew Cubbins, a special Hats Off to Dr. Seuss! Exhibition has been mounted that combines these two secret collections. Audrey S. Geisel, the widow of Dr. Seuss, has generously opened up the Estates legendary hat closet to allow the public a peek at Dr. Seusss hat collection. These hats, along with the Secret Art, will travel the country and visit select venues throughout the next year.
The Hats Off to Dr. Seuss! Beverly Hills exhibition will feature Dr. Seusss never-before-seen hat collection alongside his little-known Secret Art, a series of Estate authorized works adapted and reproduced from Ted Geisels original drawings, paintings, and sculpture. This historic collection has opened the worlds eyes to the extraordinary artistic talent of Dr. Seuss and will be available for viewing and purchase through the run of the exhibition.
In his artwork, as in his personal life, Dr. Seuss saw hats as transformational. And from the time he was a small boy in Springfield, Massachusetts, he was aware of their inherent magic. Far beyond their functionality, hats were the accentthe exclamation pointon a persons behavior. They could entertain, delight and embellish, even tease and taunt, but most of all, hats helped Dr. Seuss deliver a world of life-changing inspiration.
The first recorded mention of Dr. Seusss hat collection came from his sister, Marnie, who visited Ted in New York in the autumn of 1937. She reported in the Springfield Union-News, November 28, 1937, Ted has another peculiar hobbythat of collecting hats of every description. Why, he must have several hundred and he is using them as the foundation of his next book. I have seen him put on an impromptu show for guests, using the hats as costumes. He has kept a whole party in stitches just by making up a play with kitchen knives and spoons for the actors.
That next bookDr. Seusss second of 44became The 500 Hats of Bartholomew Cubbins.
The Hats Off to Dr. Seuss! Exhibition delivers a unique opportunity to view Dr. Seusss superb hat collection and view their direct impact on his works of art. Traveling in a specially retrofitted old fashioned steamer trunk, this exhibition premiered at the New York Public Library, and was the first of a handful of stops across the country. This is a once-in-a-lifetime opportunity to see a selection of hats from Dr. Seusss private collection.
Celebrity signed artwork to travel with Hats Off to Dr. Seuss! Touring Exhibition coming to Beverly Hills, California.
Also arriving with this exhibition are signed Green Eggs and Ham: Would You? Could You? In a Car serigraph prints featuring the signature of famed celebrity racecar driver, Jeff Gordon, whose foundation the Jeff Gordon Children's Foundation is dedicated to finding a cure for pediatric cancer. Mr. Gordons foundation funds programs that improve patients' quality of life, treatments that increase survivorship, and medical research to find a cure.
The Hats Off to Hope! Campaign is a collaboration between Dr. Seuss Enterprises, Chase Art Companies, Random House Childrens Books and the Jeff Gordon Childrens Foundation, to bring hope, comfort and support to thousands of children currently battling cancer in the United States.Each purchase of a Jeff Gordon signed Would You? Could You?In a Carprint will help Chase Art Companies to support Hats Off to Hope!
Exhibition Period: