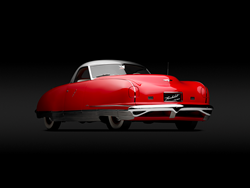 Indianapolis, IN (PRWEB) October 30, 2014
A new type of motor spectacle is coming to Indianapolis next spring. Dream Cars: Innovative Design, Visionary Ideas, a major exhibition featuring rare concept cars from the early 1930s to the 21st century, will open May 3, 2015 at the Indianapolis Museum of Art.
Dream Cars showcases some of the most unique vehicles ever created by top names in the automotive field, including General Motors, Cadillac and Chrysler. Along with conceptual drawings and scale models, the exhibition explores the evolution of revolutionary automobile design that pushed the limits of the imagination and shaped the future of the industry.
As racing capital of the world,' Indianapolis is a natural fit for this exhibition, said Dr. Charles L. Venable, The Melvin & Bren Simon Director and CEO at the Indianapolis Museum of Art. The IMA is recognized as a leading museum in the field of industrial design and we are thrilled to pay tribute to Indianapolis rich automotive history by bringing these legendary vehicles to the city at exactly the time when all auto eyes are on us.
General Motors coined the term dream car in 1953 as a reference to concept cars experimental vehicles that challenged the status quo with their radical designs. As testing grounds for innovation, concept cars are a platform for automakers and independent designers to experiment with technology and explore cutting-edge styling and design aesthetics. Most concept cars are never intended for mass production, but instead are unique glimpses into the future possibilities of automotive design.
Dream Cars features American and European concept car designs dating back to the 1930s. Exhibition highlights include:


Paul Arzens' L'Oeuf